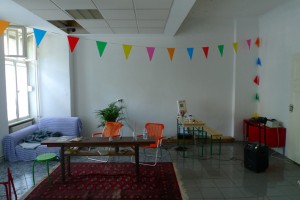 Picnic is a project room dedicated to the development of experimental art, music and radio projects.
Each month an artist or musician is invited to stay during a short period (shot residence) in order to develop a new idea.
The project must be new and if possible site specific.
The Picnic team will take care of making picnic food and help the artist.
The idea comes from the concept of Shot Residence, the artist has a limited time to conceive and realize an idea. The idea of a deadline is important in the sense that the artist is subject to make decisions relatively quickly and radically to get the best he can to finalize his project.
The shot residence is also a concept related to the freshness of view, where the short time available prevents you from entering in a sort of habit, and everything remains new.
Picnic is composed of a room (approx. 50 m2) with window and access to the street and a cellar (approx. 30 m2) planned for concerts and sound experiments.
Picnic as ephemeral moment of enjoyable social sharing.
PICNIC:
Originally designed to help take advantage of weather and nature, the picnic is also an excuse to get together with family or friends and share dishes that each brings. Often consists of cold food, the picnic can also be enriched meat cooked on a spit or grill.